Russian officials said Tuesday air defenses shot down several Ukrainian drones targeting Moscow, with the wreckage from one drone striking a high-rise building in the Russian capital.
Moscow Mayor Sergei Sobyanin said on Telegram the building was the same one struck during another Ukrainian drone attack on Sunday.
There were no injuries reported from the Tuesday attack.
Ukrainian drones struck Russia's capital region multiple times in July, revealing Moscow's vulnerability as Russia's war in Ukraine drags on into its 18th month.
The attacks, including the one Tuesday, have included targeting of the Moskva-Citi business district several miles west of the Kremlin, causing nervousness among employers and employees there who felt the war's reach to Russia's nerve center.
Tech giant Yandex, which has offices around the Russian capital including in Moskva-Citi, asked employees to vacate offices at night when strikes on the Russian capital have tended to occur.
The United States is not encouraging or enabling attacks inside Russia, White House National Security Council coordinator John Kirby told CNN on Monday.
Russian attacks
Russian attacks on Ukrainian towns have left a trail of dead and injured, prompting Ukrainian President Volodymyr Zelenskyy to stress Ukraine's need for long-range weapons.
At least six people were killed by two Russian missiles that hit the city of Kryvyi Rih in southern Ukraine, Zelenskyy's hometown, Ukrainian officials said Monday.
Regional Governor Serhiy Lysak announced a day of mourning in the city, saying that among the dead were a 10-year-old girl and her mother. Seventy-five others were wounded, including six children ages 4 to 17 years.
Ukrainian Interior Minister Ihor Klymenko said the missiles hit an apartment building and a university building.
At the damaged residential building, nearly 150 of the building's residents managed to get out by themselves, and 30 were helped by rescuers, the governor said.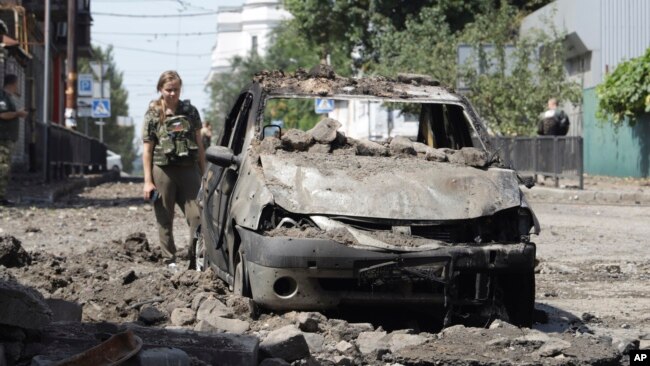 During his nightly video address, Zelenskyy said preliminary data show that the two missiles were fired at Kryvyi Rih from the territory of the temporarily occupied Crimea from the area of Dzhankoy.
"This proves again and again that for the safety of our cities, for the protection of the normal life of Ukrainians and our children, our military must have enough long-range weapons, enough means to defeat terrorists. The world's sanctions pressure against Russia deserves a significant increase," he said.
"This is already a kind of genocidal everyday reality … Kryvyi Rih," Zelenskyy's adviser Mykhailo Podolyak said on X, formerly known as Twitter. "International law will never work if the aggressor does not see a real power behind it. The power begins with closing the Ukrainian skies with missile defense and air defense systems," he added.
Attack on Kherson
Russian strikes in Kherson Oblast killed four people and wounded 17 others on Monday, among them a 16-year-old girl. Governor Oleksandr Prokudin said that one of the people killed, as well as six of those injured, were working at a utility company when it came under fire. Five others injured were volunteers.
Later Monday, Russian forces launched a new attack against Kherson, targeting the Korabel district; meanwhile, an attack on the city of Beryslav killed another man.
Prokudin said the intense shelling is due to Russia replenishing its forces on the east bank of the Dnipro River.
Peace summit in Saudi Arabia
U.S. government officials will attend the Ukraine summit scheduled in Saudi Arabia, State Department spokesperson Matthew Miller announced during a briefing on Monday, saying that he could not provide more details.
The Wall Street Journal reported Saturday that Saudi Arabia would invite Western states, Ukraine and major developing countries to the high-level talks.
Saudi Arabia's summit is reportedly scheduled to be held in Jeddah over the weekend to discuss implementation of Zelenskyy's peace plan to end Russia's war in Ukraine.
Mexican President Andres Manuel Lopez Obrador called for an end to the "irrational" war in Ukraine and urged the upcoming peace talks in the Middle East to include representation from both Ukraine and Russia.
Lopez Obrador said Mexico would only participate in the peace talks if both sides were present.
The Mexican president has tried to keep his country neutral in the war, though his government has backed some major U.N. resolutions against Russia. Mexico has refused to send arms to Ukraine and has not imposed sanctions against Russia.
The Kremlin said Monday it would "follow" the meeting but did not currently see conditions for peace talks with Kyiv.