Twice impeached though not convicted, Donald Trump has become the first former U.S. president to face criminal charges.
In a move without precedent in U.S. history, a grand jury in New York voted Thursday to indict Trump on charges related to paying off a porn star during his 2016 presidential campaign.
The highly anticipated charges come as Trump seeks a return to the White House after losing a reelection bid in 2020, making him both the only president, current or former, and the only presidential candidate to be indicted.
The indictment remains under seal and it is not clear what crimes and how many criminal counts Trump has been charged with. CNN reported that the former president has been charged with more than 30 counts. VOA could not confirm the report.
In a statement, Manhattan District Attorney Alvin Bragg's office said it has contacted Trump's attorney "to coordinate his surrender to the Manhattan D.A.'s Office for arraignment on a Supreme Court indictment."
Trump lawyer Joe Tacopina said the former president will likely be arraigned early next week.
The arraignment could come as soon as Tuesday, several news outlets reported, citing unnamed sources.
To turn himself in, Trump, who lives in Florida, would have to travel to New York, along with his Secret Service detail.
Once in custody, he would be fingerprinted and photographed before being arraigned before a judge and released on his personal recognizance.
In a statement, Trump, who has denied any wrongdoing in the case, cast the indictment as part of a long running Democratic-led witch hunt to destroy his "Make America Great Again" movement."
"This is Political Persecution and Election Interference at the highest level in history," the former president wrote. "The Democrats have lied, cheated and stolen in their obsession with trying to 'Get Trump,' but now they've done the unthinkable — indicting a completely innocent person in an act of blatant election interference."
Rather than hurt his candidacy, Trump said the indictment "will backfire massively on [President] Joe Biden."
Last week, writing on his social media platform, Truth Social, Trump warned of "potential death and destruction" if he were indicted, a statement some critics viewed as an incitement to violence.
The indictment, though widely expected, set off a firestorm around Washington.
"Outrageous," tweeted Republican congressman and staunch Trump loyalist Jim Jordan.
Republican House of Representatives Speaker Kevin McCarthy, accusing Bragg of weaponizing the justice system against Trump, vowed that the House would hold the prosecutor and "his unprecedented abuse of power to account."
Other Republicans who are not particularly close to Trump similarly viewed the prosecution as politically motivated.
The reaction from Democrats, on the other hand, was predictably favorable.
In a statement, former Democratic House Speaker Nancy Pelosi, wrote that the grand jury "has acted upon the facts and the law."
"No one is above the law, and everyone has the right to a trial to prove innocence," she wrote. "Hopefully, the former President will peacefully respect the system, which grants him that right."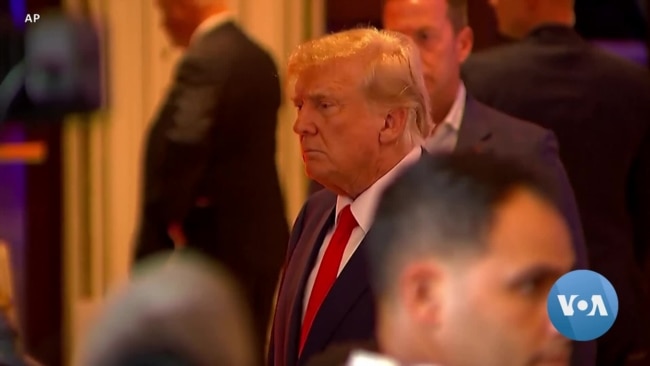 The indictment grew out of a federal investigation of hush money payments that Trump's then-lawyer Michael Cohen made to porn star Stormy Daniels in the final days of the 2016 presidential campaign.
The secret payment came to light in early 2018. Flipping on his former boss, Cohen testified in August 2018 that at Trump's direction, he paid Daniels $130,000 to keep her quiet about an alleged sexual encounter with the real estate mogul-turned Republican candidate. The Trump Organization later reimbursed Cohen for "legal" services.
While paying hush money is not illegal, federal prosecutors charged that classifying the payment as a "legal" fee violated federal campaign finance laws.
In 2018, Cohen pleaded guilty to multiple federal criminal charges, including campaign finance violations, and later served more than a year in prison.
While federal prosecutors did not charge Trump at the time, the Manhattan district attorney's office subsequently picked up the case and began receiving grand jury testimony in January.
Cohen, the prosecutors' star witness, testified before the panel multiple times.
In a statement issued Thursday, Cohen said he stood by his testimony and the evidence he has provided prosecutors.
While the indictment remains under seal, legal experts say the charges against Trump likely center on New York's false business records law.
Under the law, falsifying business records is normally a misdemeanor. When it is done with the intent to commit or hide a second crime, it rises to the level of a felony punishable by up to four years in prison.
What additional offenses, if any, Trump has been charged with remains unclear.
Although prosecutors typically bring charges against a defendant only when they believe they can get a conviction, convicting Trump is far from certain, according to legal experts.
While Trump has admitted to reimbursing Cohen for the hush money payment, he has said it "had nothing to do with the campaign."
His lawyers have placed the responsibility on Cohen.
"The payments were made to a lawyer, not to Stormy Daniels," Tacopina said on MSNBC recently. "The payments were made to Donald Trump's lawyer, which would be considered legal fees," he said.
Cohen was "his lawyer at the time and advised him that this was the proper way to do this, to protect himself and his family from embarrassment. It's as simple as that," Tacopina said.
But other legal experts argue that prosecutors should be guided by a long-standing principle: treating like cases alike.
In a recent piece on the website Just Security, co-editor-in-chief and New York University law professor Ryan Goodman highlighted cases that he said show how prosecutors in New York "have thrown the book at individuals for falsifying business records — some cases involving actions far less egregious than Trump's alleged conduct."
In 2021, a mental health therapy aide was indicted under the statute for defrauding more than $35,000 in workers' compensation benefits.
Last year, an insurance broker was indicted for allegedly creating and filing fraudulent certificates of liability insurance to further scheme to defraud.
The hush money indictment is not the only criminal case the former president faces.
In Georgia, prosecutors are considering bringing criminal charges in connection with Trump's effort to overturn the 2020 presidential election result in the state. Trump narrowly lost Georgia to Democrat Joe Biden.
Meanwhile, U.S. Justice Department-appointed special counsel Jack Smith has been investigating Trump's role in trying to upend Biden's victory as well as his handling of classified documents after he left office.